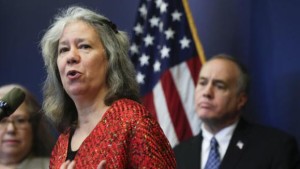 Photograph by Mike Groll, AP
Laurie Kash of Last Stop Advocacy Project of Rochester talks about her mother's experience at a nursing home during the NY State Comptroller's Press Conference on Nursing Home Reform in Albany, on February 22, 2016.
The NY State Comptroller's Office released a 28-page audit which concludes that the State Health Department should improve enforcement of nursing home violations, fines are delayed for up to six years, and nursing homes are cited repeatedly for problems with limited consequences. "The state Department of Health (DOH) needs to fix problems and delays with how it is assessing fines to nursing homes after violations are found, according to an audit released today [Monday, February 22, 2016] by State Comptroller Thomas P. DiNapoli."
Click here to read NYS Comptroller's Press Release and Audit
Here is Laurie Kash's speech at the comptroller's press conference.
Below is a 2 minute clip of the Comptroller's Press Conference regarding the Nursing Home Surveillance Audit, where Comptroller DiNapoli is joined by speakers Laurie Kash, Executive Director, from Last Stop Advocacy Project of Rochester; Gail Myers, Deputy Director, Statewide Senior Action Council; Jack Kupferman, President, Gray Panthers; and Richard Mollot, Executive Director, Long Term Care Community Coalition.
During the Comptroller's Press Conference on Monday, Laurie Kash spoke about her mother entering a nursing home on her own two feet, physically intact, in what was going to be a temporary stay. After three weeks – over a 13 day period, her mother became paralyzed from the chest down … Kash states, "When I speak about my mom – what happened to her did not happen in a vacuum, could not have happened in a vacuum. There are countless people every day suffering. You read it in the newspapers. What we're hoping this [the NY State Comptroller's Audit of the DOH] opens the door for is really active change, and a movement to start to address our legislators, and the DOH, and nursing homes. Because nursing homes are harming people and it needs to stop."
Comptroller DiNapoli's Press Conference has been a great success and has generated national interest. We are truly grateful that a governmental agency has audited the New York State DOH. Here is one news media link, among many:
State Health Department blasted for enforcement of nursing home violations, by Tom Precious of The Buffalo News